What Is Safe Passage?
Based on concerns around student safety, the District established the School Safety and Safe Passage Working Group to better understand and enhance safety-related policies that impact District of Columbia Public Schools (DCPS) and Public Charter Schools (DCPCS). Learn more about Safe Passage.
Contact Us
For more information, please contact Hillary Desir at [email protected].
For employment, please reach out to participating community-based organizations.
Safe Passage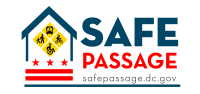 Connect With Us
1350 Pennsylvania Avenue, NW, Washington, DC 20004 TTY: 711
Email:
[email protected]